Hi everyone, and welcome to my stop on the Jaftex 85th Anniversary Blog Hop! If this is your first time stopping by, I'm Sylvia and I'm primarily a modern quilter. I also love to make science-inspired quilts!
When I was asked to participate in this blog hop, I knew right away that I wanted to play with Peppered Cottons, as I'd had my eye on some of these for a while. They are shot cottons, meaning that the warp and weft threads of the fabric are different colors, and this gives them a near-solid appearance while adding a little bit of softness and interest to the look.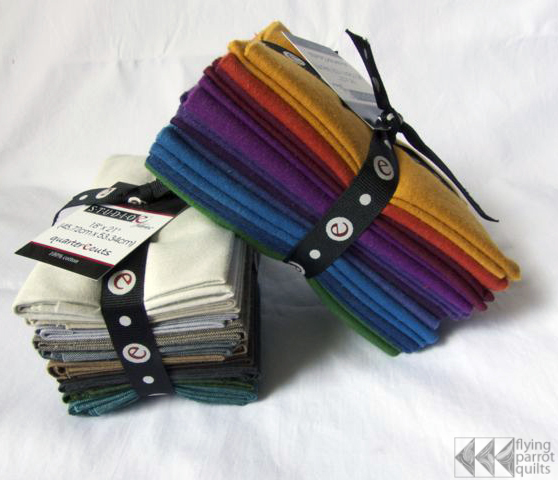 Many of my quilts have a large expanse of background fabric, so working with fat quarters is always a challenge for me. However, this line has a lovely range of neutrals, and I decided to combine them into a pieced background and just add a little pop of color. Since I've had Dresden Plates on my mind lately, I decided to make fat Dresdens. Here's the quilt I came up with: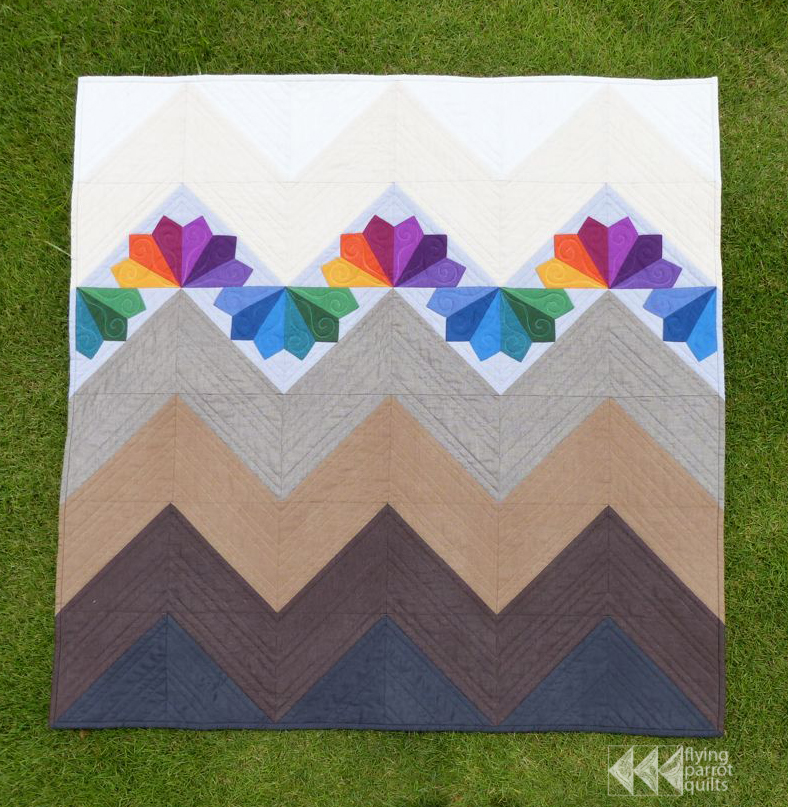 The chevrons reminded a friend of mine of the Rocky Mountains, so "Mountain Rainbows" is it for the title of the quilt!
The Dresdens were machine appliquéd on using an invisible thread, but unfortunately, as soon as I started quilting, the stitches began popping, so I had to go back and restitch them all down by hand. I quilted swirls into each colored wedge, which involved a lot of color changes and thread burying, but was so worth it.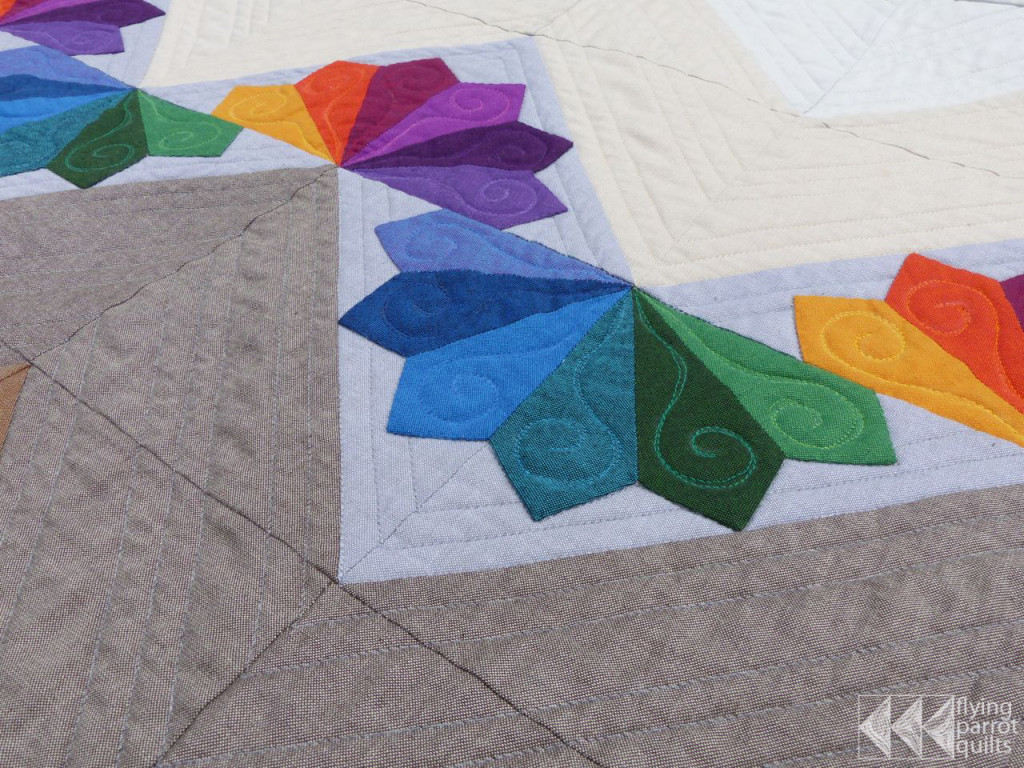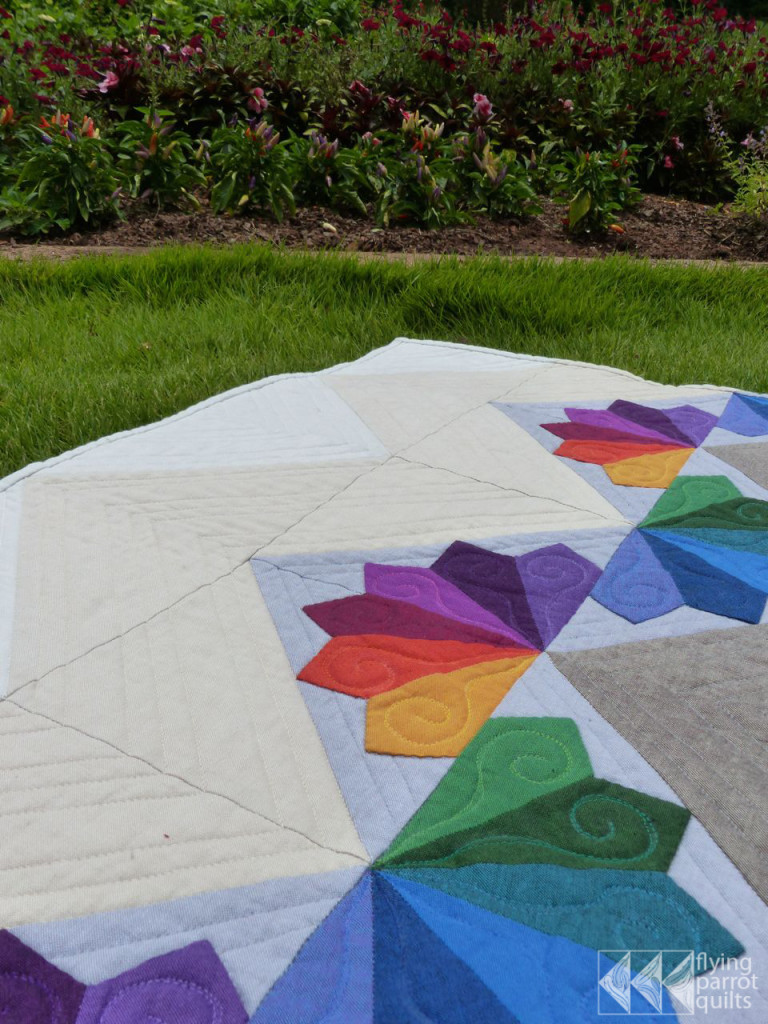 The rest of the quilting was straight line quilting following the chevrons, but I skipped every other line or so, and it really adds to the texture. I used my walking foot for this part. You can see it nicely in this photo: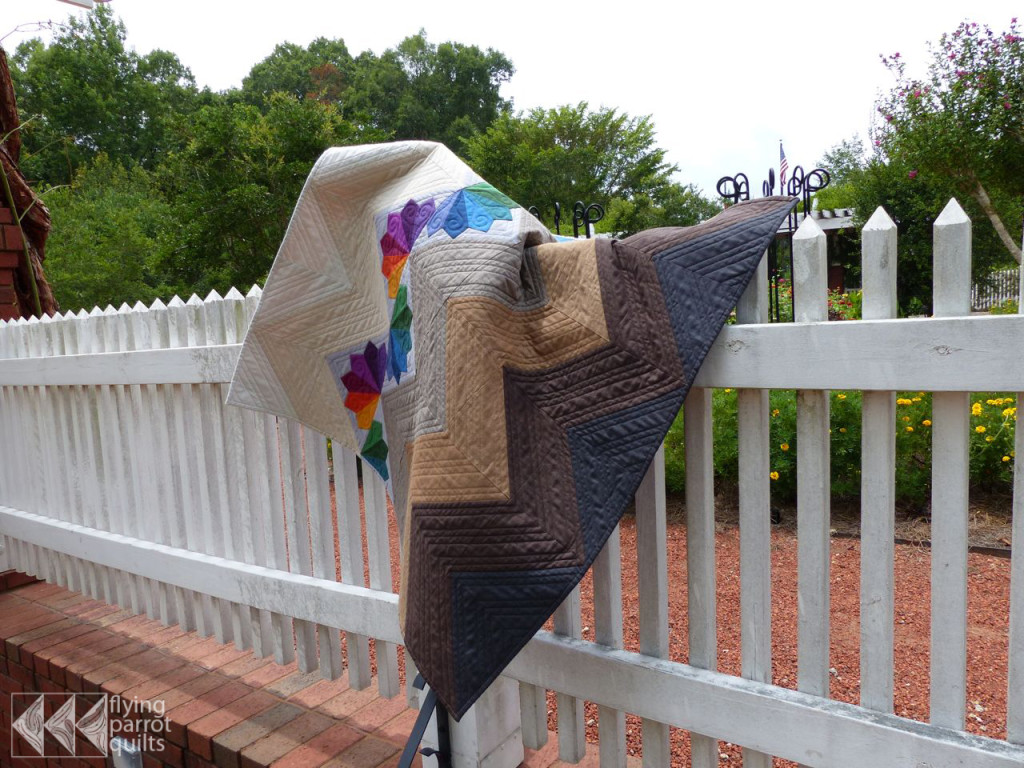 For the backing, I used leftover colorful fabrics from the Dresden Plates. I rather like the color block effect!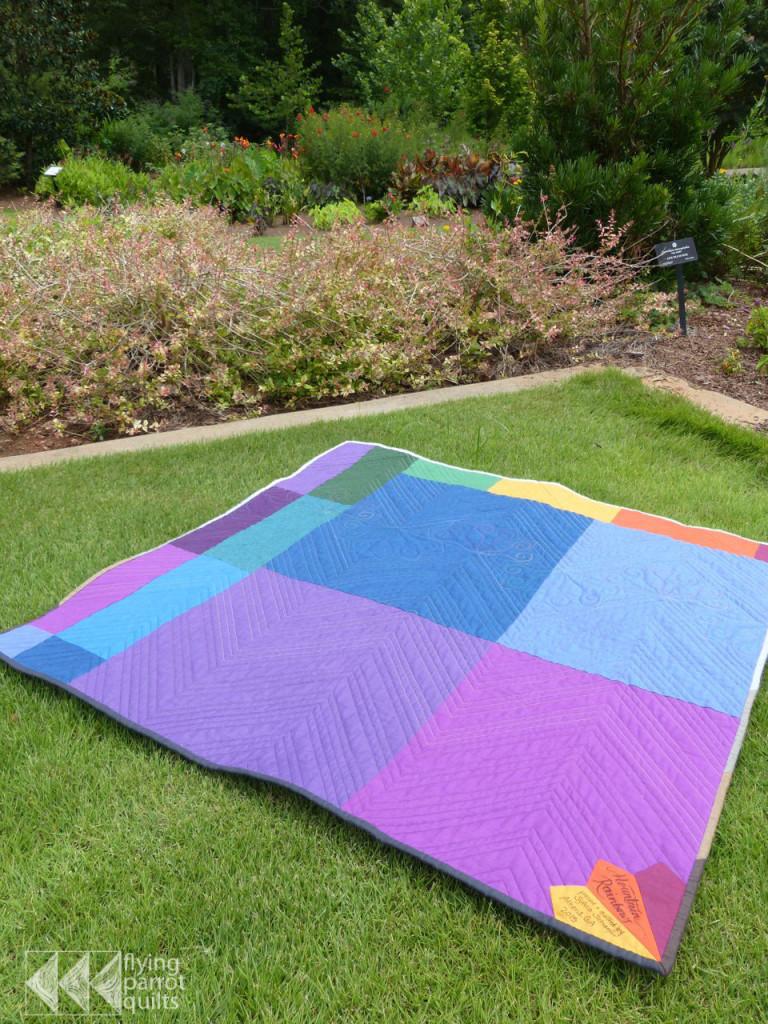 The fabrics are really soft and have a lovely drape; I actually starched them fairly heavily to make accurate piecing easier. However, they are a nice weight and not overly thin. This is my favorite color—light blue crossed with purple, and it almost shimmers.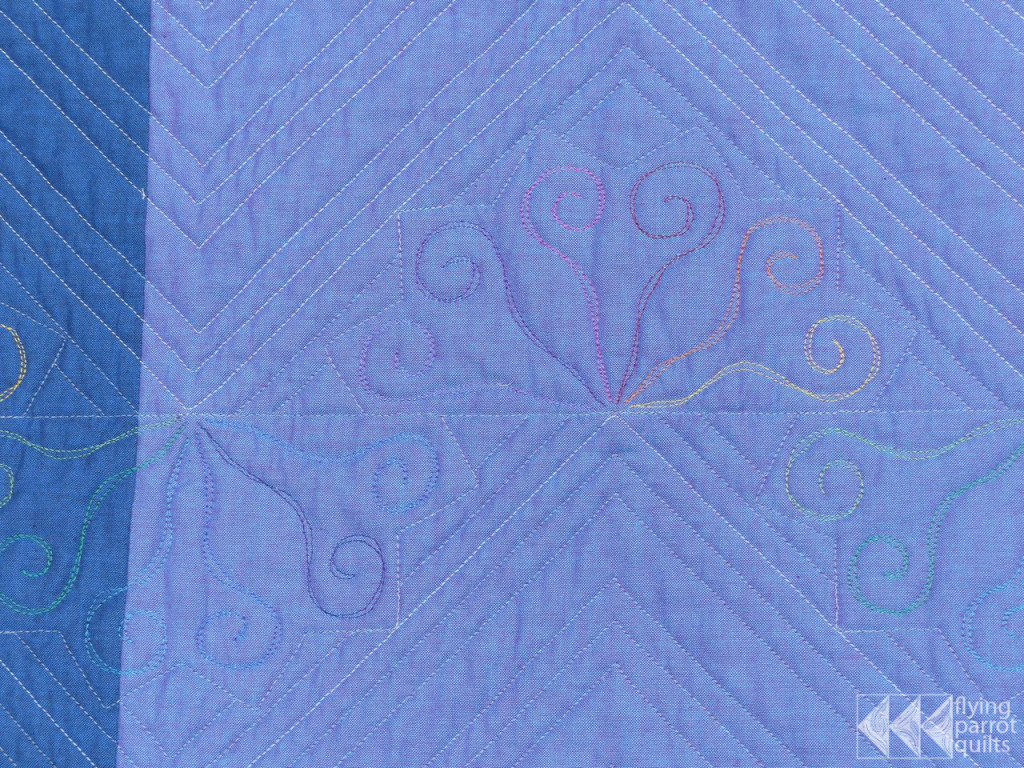 My favorite part of this quilt is the binding. I decided to continue the background gradient into the binding. I had never matched up colors at an angle before, and it was definitely a challenge, but there was just nothing else that would have quite worked the same.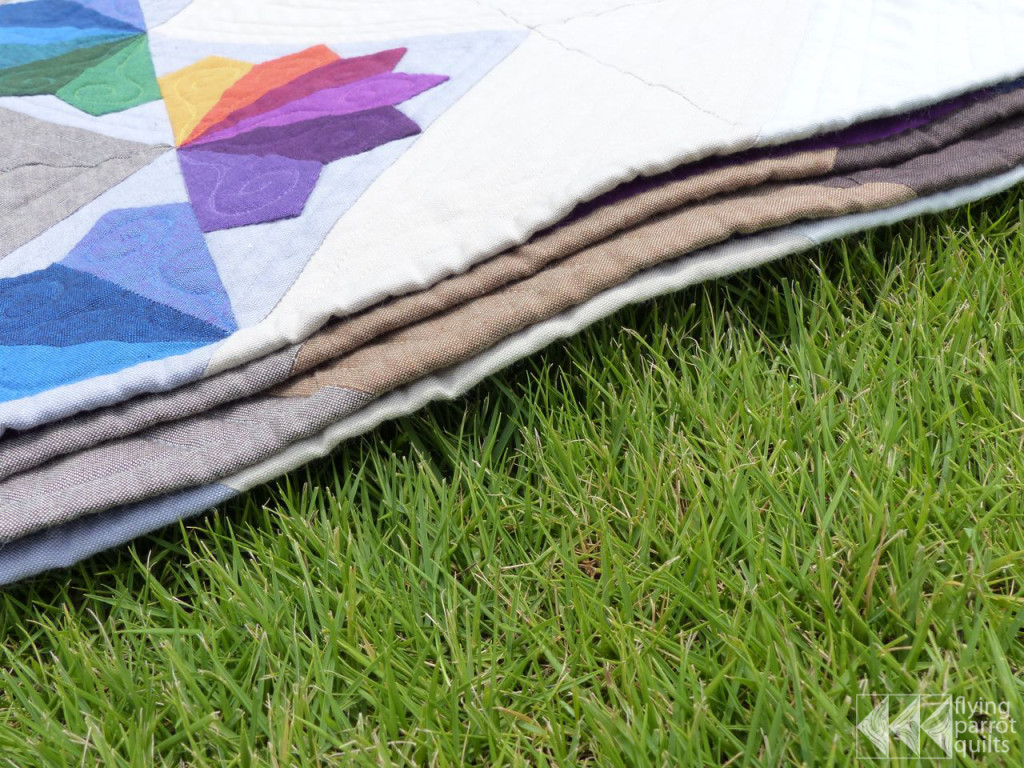 Would you like to win your own 20-piece fat quarter bundle of all the fabrics used in this quilt? Here are the giveaway rules:
1. For a chance to win, leave me a comment and tell me what you would make with these fabrics.
2. For a second chance to win, follow me on Instagram, Bloglovin', or by email. Leave me a separate comment telling me how you follow!
I'll pick a winner at the end of the blog hop. (Although I usually try to respond to all comments, the volume during giveaways may mean I'm not able to. Rest assured that I read them all!)
For more chances to win all month, visit some of the other stops on the blog hop! There is also a grand prize giveaway, with chances to win a sewing machine, threads, and more, plus a chance for your favorite quilt shop to win, too. You can enter that drawing here:
85th Anniversary Giveaway
(Thanks to cosponsors Aurifil Threads, Schmetz Needles, and Janome!)

September 1 – Kim Diehl guest posting @ American Patchwork & Quilting
September 2 – Pepper @ Pepper at the Quilt Studio
September 3 – Anjeanette @ Anjeanette Klinder
September 4 – Leanne @ The Whole Country Caboodle
September 5 – Mark @ Mark Lipinski's Blog
September 6 – Heather @ Heather Kojan Quilts
September 7 – Heather @ Trends and Traditions
September 7 – Martha @ Wagons West Designs
September 8 – Linda @ Linda Lum DeBono
September 9 – Heidi @ Red Letter Quilts
September 10 – Jill @ Jillily Studios
September 10 – Dana @ My Lazy Daisy
September 11 – Penny @ Sew Simple Designs
September 12 – Ida @ Cowtown Quilts
September 13 – Liz and Beth @ Lizzie B Cre8ive
September 14 – Melissa @ Sew Bitter Sweet Designs
September 15 – Yvonne @ Quilting Jetgirl
September 16 – Amy @ Kati Cupcake
September 16 – Barbara @ QuiltSoup2
September 17 – Erica @ Kitchen Table Quilting
September 18 – Leona @ Leona's Quilting Adventure
September 19 – Margot @ The Pattern Basket
September 20 – Sylvia @ Flying Parrot Quilts
September 21 – Lorna @ Sew Fresh Quilts
September 22 – Kim @ Aurifil Threads
September 23 – Rebekah @ Don't Call Me Becky
September 24 – Julie @ The Crafty Quilter
September 25 – Mary Ellen @ Little Quilts
September 25 – Mary Jane @ Holly Hill Designs
September 26 – Daisy @ Ants to Sugar
September 27 – Melissa @ Happy Quilting
September 28 – Janet @ One S1ster
September 29 – Jenny @ Martingale& Co.
September 30 – Teresa @ Third Floor Quilts
SaveSaveSaveSaveSaveSave