I love the Harry Potter books, and so I couldn't help myself and joined a Harry Potter themed swap a while back. The partner I was assigned said her favorite book was Goblet of Fire, so I made a book 4-themed quilt for her!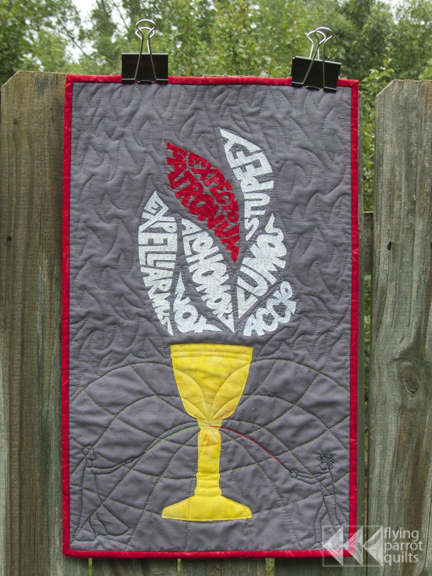 I drew the flames and then fitted various spells into them. These are fusible web-backed appliqués that I cut very carefully using small scissors. I also used batik fabrics, a choice I mostly made because they looked best, but since batik fabrics have a high thread count and fray less easily, anything else would have been a disaster with these sorts of fiddly shapes!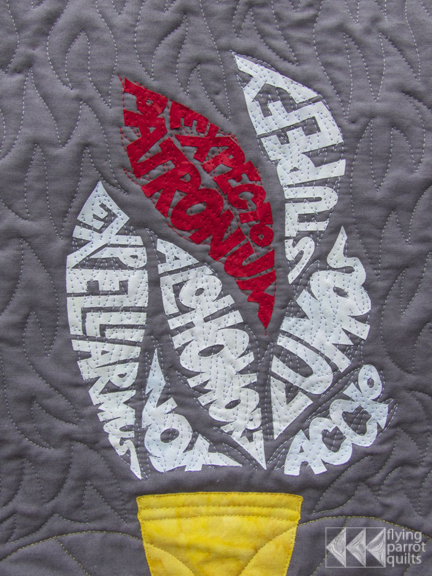 The top half was quilted with a flame motif, but to add a little extra something, I quilted Harry and Voldemort's duel in the graveyard into the bottom part of the quilt. When I quilted this, I was a little disappointed because it just didn't look right until I realized I'd forgotten Harry's glasses!
I had a little scare about this quilt possibly getting lost (swappers, please make sure you keep your host informed of any moves!), but I'm pleased to hear that it has reached its new home and is being loved!
In return, I received this delightful quilt that completely captured my sentiments from Sandy! (I like the movies, but if you watch them with me you'll have to listen me complain about everything that was left out, and how they totally didn't explain what just happened properly, etc. etc.!)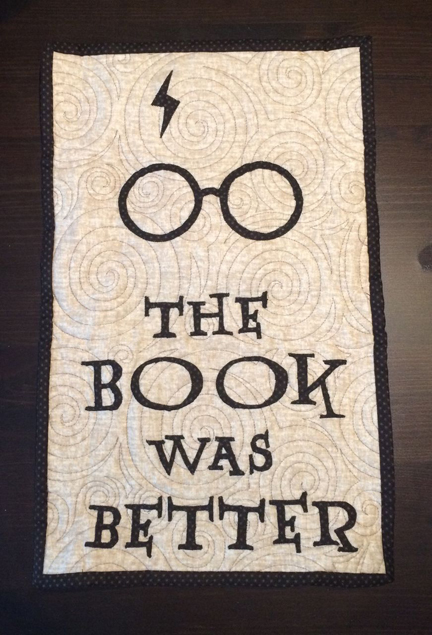 I also found out yesterday that my quilt "The Disintegration of the Persistence of Artichokes" took first place in the new modern category that the Pacific International Quilt Festival has just added to their show. PIQF has only a few categories but many ribbons within each category, so I was hoping for something, but I really wasn't expecting the top prize in the category. I wish I could be there, but fortunately there are kind people on Instagram who will take pictures for me—it didn't seem real until I saw a photo!
SaveSave