My quilt "Celestial Orbs" won an Honorable Mention ribbon at the AQS show in Paducah a couple of weeks ago, and when I found out I'd won something, I made the spur-of-the-moment decision to drive up to Kentucky and go see it. (Thanks to my good friend Marybeth who let me crash in her hotel room!)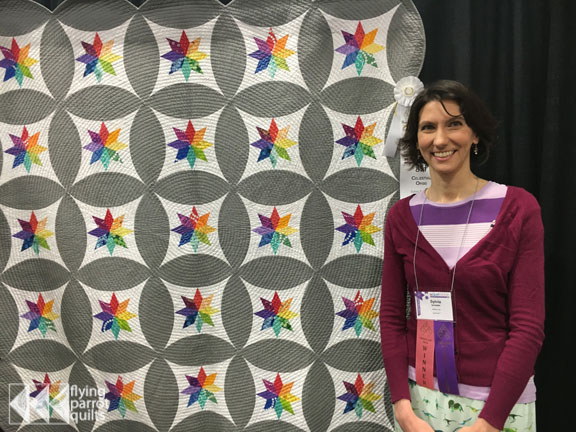 Apparently the quilters that show up to this show every year double the population of the town! To even get to my quilt I had to fight my way through aisles that looked like this: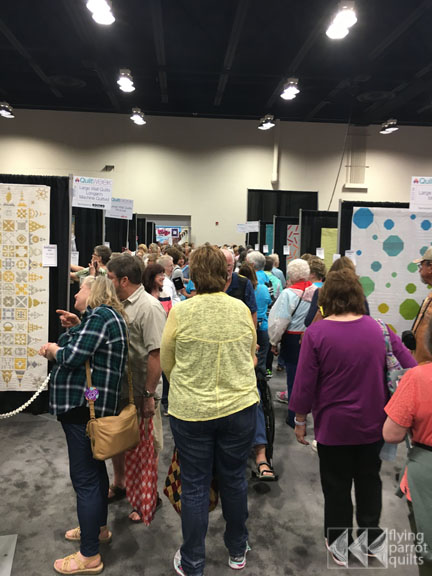 We met ladies from as far away as England and Australia. Late in the afternoon, everyone is worn out, and I was finally able to get this wide-angle shot of my quilt hanging.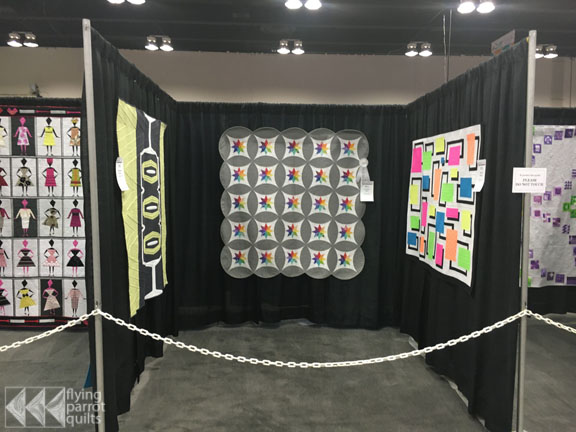 I did get to do a winner's interview, but it doesn't seem to have been posted yet, so I'll update when that is available.
They literally inflate a building to hold all the overflow vendors. It's held up by positive pressure inside the building, and your ears pop every time you go in or out.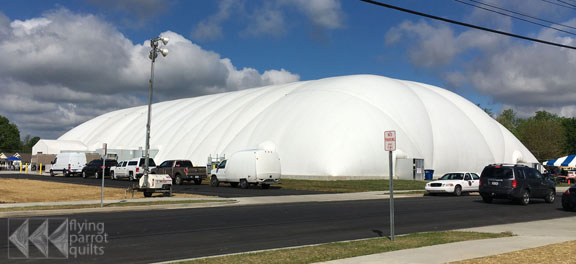 Of course, no trip to Paducah is complete without a visit to the legendary Hancock's of Paducah (not affiliated with the soon-to-be-defunct fabric store chain). It's too big for photos alone, so I took these panoramas—click to enlarge! (And sorry about the camera glitch on the bottom! 🙂 )

It is almost a little too big to do much shopping—I get overwhelmed when there are so many choices, but I did manage to find a few fabrics that spoke to me.
On the final morning, we went to town super early to visit the National Quilt Museum, which is located just a few blocks from the show venue. There was a little farmers' market set up in the parking lot, and I found this amazing stand selling the most beautiful air plants.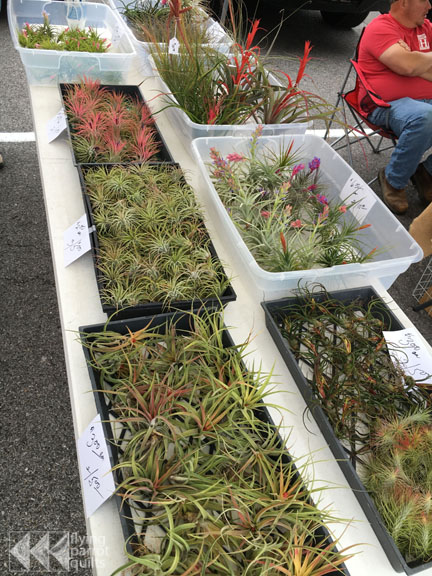 I have a weakness for air plants, and I'm pretty sure the owners thought I was completely insane. After leaving a bunch of money with them, we headed over to the quilt museum. No pictures were allowed, but George Siciliano was demonstrating his tiny foundation piecing techniques in the lobby, and he allowed me to snap this photo of a quilt that I loved, because the colors were just like those of the air plants I'd just bought!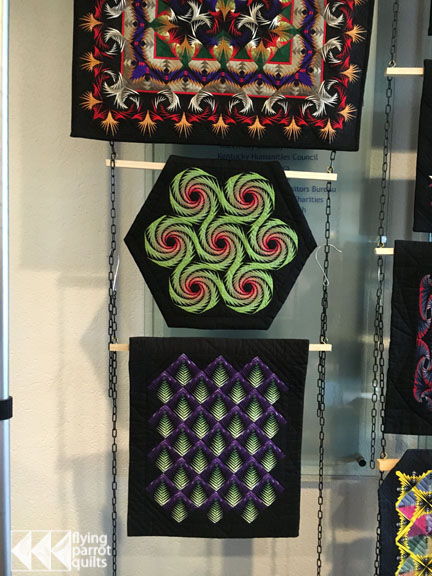 It was quite an experience to attend a show this big, but I'm so glad I made the drive up. It was totally worth it, and I hope to get to go to this show again in the future!