If you haven't yet recovered from making three spiders, this week should give you a breather and allow you to catch up! This week we are making two more paper pieced blocks, both freely available from the lovely folks at Fandom In Stitches, and in particular the Harry Potter section (check them all out in case you find one you really want to include in your quilt!).
These blocks are sized to be 5" finished, so we need to resize them to 6" finished. Check out this excellent tutorial on how to resize any block! In this case, we need to print the blocks at 120%. You can also just resize the block by adding a ½" border (1" cut strips) on all sides. This is essentially what I did for the cauldron block.
Much of the fun of this quilt is in the fabric placement, and this week's blocks are the first good opportunity for some strategic fabric placement. Spiders are the main ingredient in the potion bubbling away in my cauldron in the forest!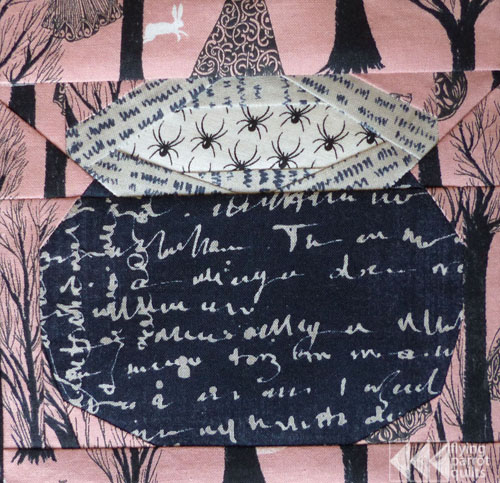 Here is my potion. It's a little different from the pattern, because I tried used curved piecing for the bottom section. I thought that would be easier, but the fiddling around trying to get sections to line up wasn't worth it, so I'd recommend just sticking with the pattern! You can omit some of the really tiny pieces (e.g. 2 and 3 in section B or 3 and 9 in Section D) if you'd prefer.
Let's see your progress! Tag your photos with #epichalloweenqal.