Happy Independence Day to all my American readers! I hope thinking of Halloween helps you survive the heat!
This week's block is "Ring of Coffins" by Jessee Maloney of Art School Dropout, and I think it's one of the most inventive Halloween blocks I've ever seen! Jessee's original block is sized to make an 18" block; I reduced this to fit on a 15" block. If you prefer to make it full size, you'll have to do some reshuffling of blocks to make it fit into the final quilt layout. To reduce the pattern to fit on a 15 1/2" unfinished block, set your printer scaling to 85%. (This means you'll have a little less than the specified ½" seam allowance, but that should still be plenty for EPP.)
Jessee has very kindly agreed to let you in on all her tips and tricks for putting this block together, so please head over to Jessee's blog to read all about her secrets!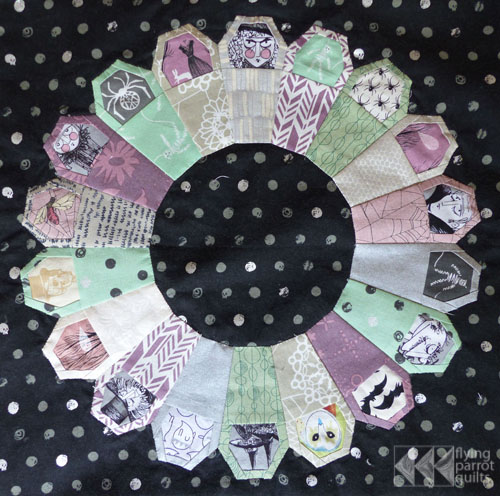 This block is a great one to work on throughout the remainder of the quilt-along, adding to your little pile of coffins as you generate scraps from all the other paper piecing.
Here are a couple of links to general English Paper Piecing tutorials, if this is a new-to-you technique.
Video tutorial: https://www.youtube.com/watch?v=yDrTVi0jk6w
Photo tutorial: http://www.thezenofmaking.com/2013/06/tutorial-english-paper-piecing-hexies-part-1/
Tag these blocks with #ringofcoffins and #epichalloweenqal to share your progress with everyone!
SaveSave