I'm excited to show you a quilt I finished this spring, just published in the third edition of Quilting & Patchwork for Beginners from Future Publishing!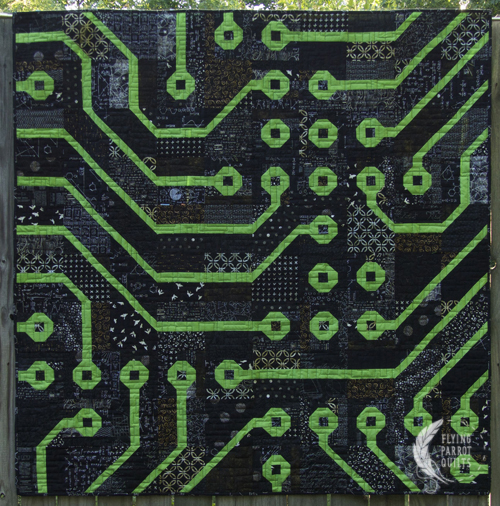 As the name tells you, this quilt is inspired by the circuit boards inside all of the electronics we love!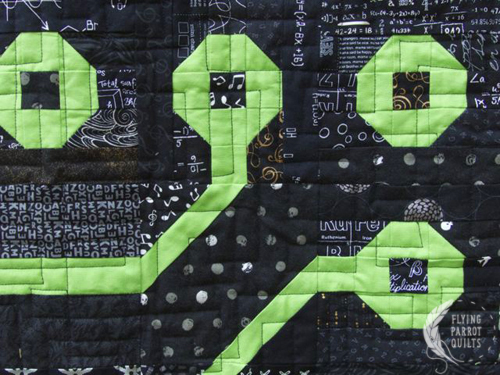 This quilt was made with a bright green solid for the traces and vias (those are the actual names for the lines and circles on circuit boards!), and a scrappy black background. As I was piecing this quilt, I realized that the prints in the fabric actually reflect many of the things I do on a computer, so it seemed particularly apt—there are, of course, science-themed fabrics, as my background is in science, but there is also music, a sewing-themed print, text, even some leftover Halloween spiderweb print because we surf the web and sometimes there are bugs in our programs. (Yes, I know spiders aren't technically bugs.)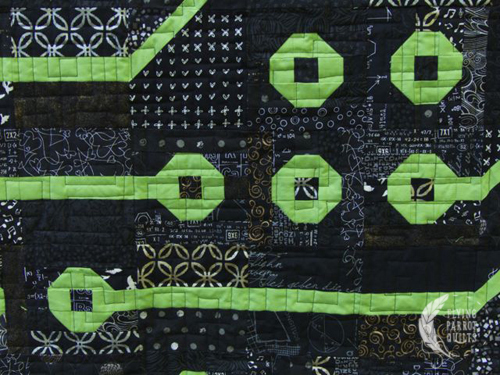 This quilt uses some very simple paper piecing for the diagonal lines, and straightforward traditional piecing for the rest of the blocks, so it's a great first foray into paper piecing if you've been wanting to try it. I quilted the quilt with an all-over boxy design in black thread.
I made my husband help take photos at the botanical gardens; here he is pretending to read a book containing physics equations having to do with electricity. Unfortunately, that didn't really come out in the photos!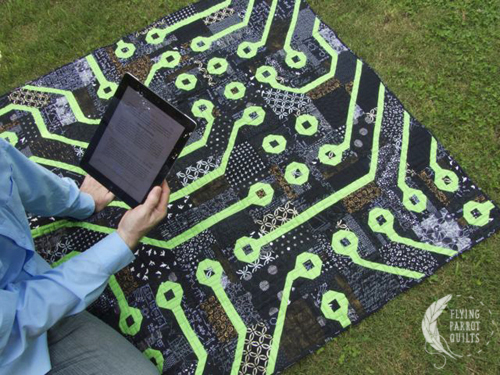 Future Publishing is based in the UK, so US readers might have some trouble finding it on bookshelves, but you can order a copy here. If you're new to quilting, it's chock full of great information about lots of different quilting techniques, so it's a good choice for an all-around reference book!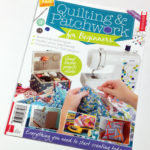 Quilt Stats:
50″ x 50″
Fabric: Kona Green Apple & black scraps from stash
Batting: Hobbs cotton
Quilting thread: Aurifil black, 50-weight
Quilting stitches: 60,339
SaveSave