I wanted to share a little about my new paper patterns and my Quilt Market adventure! Thanks to the Craftsy Quilt Designer Fellowship, I was able to have a booth at Quilt Market, the industry trade show, to launch a new line of paper patterns.
I currently have 11 paper patterns out, all of which you can pick up here in my new online shop (you can, of course, also choose the PDF patterns instead!). I hope you will ask your local quilt shops to carry them, too.
As for the Quilt Market booth, Craftsy did a lovely article which you might have seen, but I thought I'd share some behind-the-scenes photos! If you don't know much about Market, it's the industry trade show held in the convention center in Houston, Texas, and it's enormous. Here's a second-floor view of just part of the trade show floor: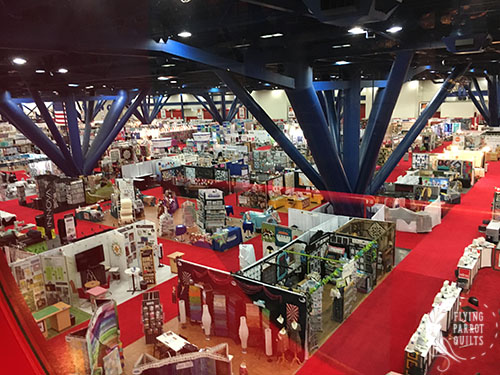 Next door and equally large is the quilt show, since International Quilt Festival immediately follows Market. I didn't even get to go through this show!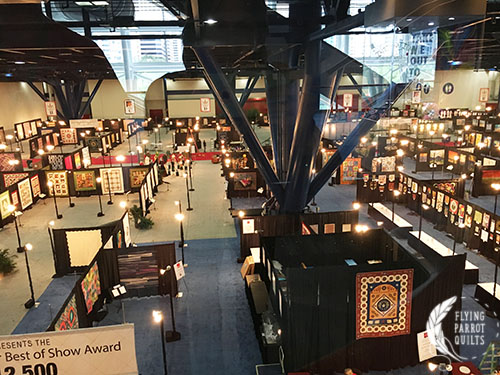 You get two days to set up your booth. When you first arrive this is what your booth looks like: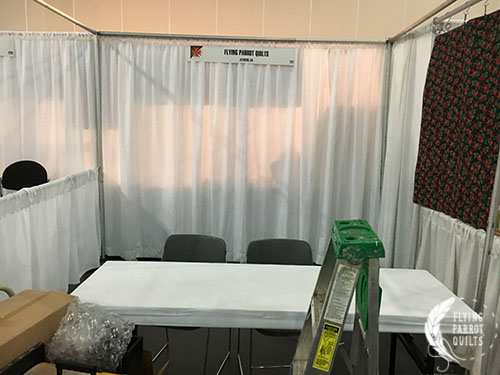 The first day was spent putting in flooring, drapes, and the shelving unit I built to display my patterns.
As you can see in the picture above, the drapes didn't come quite to the floor, making for an unsightly bottom edge, since there were electrical cables running behind the booth. This caused me a great deal of heartache about the curtains being too short until, far too late in the setup, I realized that the curtains were hemmed and I'm a quilter and there is technology for removing stitches.
Day 2 was for hanging quilts. I had a pretty good idea of where everything needed to go, but there were still little details to be ironed out, like how to keep large quilts from sagging.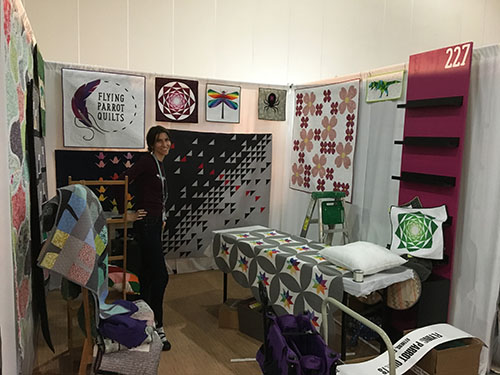 In the end I was really happy with how the whole booth came together. For someone with no experience putting together a trade show booth, I managed not to forget anything really important and to have it all look good at the end!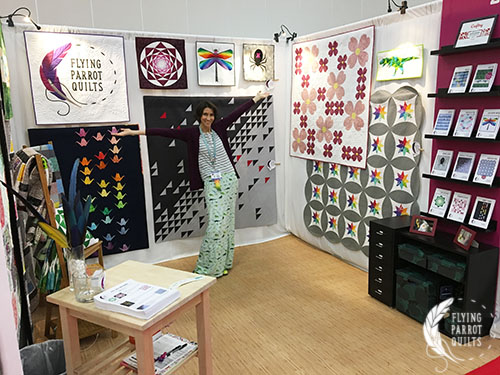 Here are a few detail shots!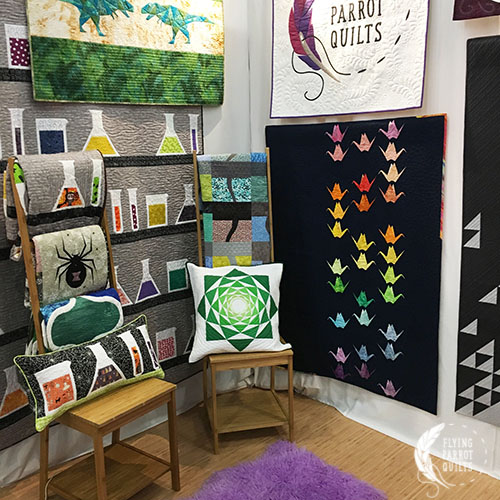 That fluffy purple rug is a faux sheepskin from IKEA that I dyed purple. I got the idea from reading about how some of the costumes on Game of Thrones were made from that rug!
I built the pattern display myself out of IKEA shelves and particleboard. (It was a good excuse to buy power tools, like a circular saw!) I was worried about its stability but it turned out to work just fine and be a good way for people to be able to take a look inside all the patterns.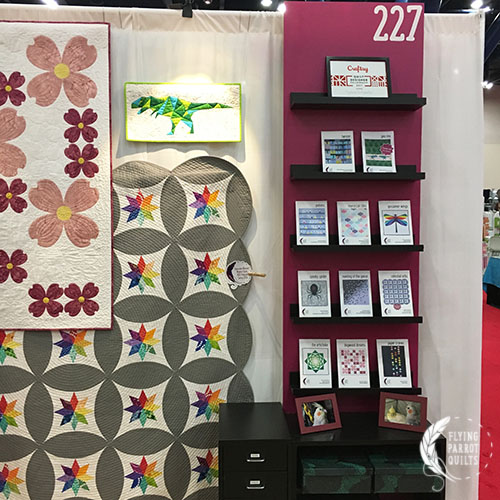 The feather vase was full of feathers donated by the parrots at the parrot rescue sanctuary we volunteer at and from whom we adopted our current two cockatiels. The giveaways were Geo Rex temporary tattoos!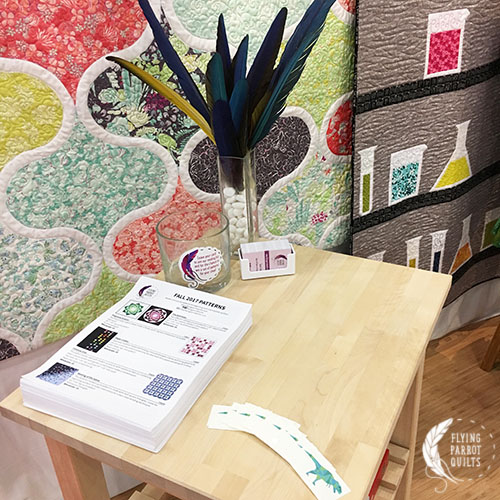 All in all, it was a fabulous adventure, and I'm so grateful to Craftsy for having given me the opportunity!