Just popping in to show you Zigzag Fade, a new pattern in Issue #22 (February 2018) of Modern Quilts Unlimited! This is one of the larger quilts I've made to date, at 68″ x 87″, but much of it is negative space so it actually comes together pretty quickly—just two blocks, set on point in a fun zigzag pattern!
Unfortunately, I didn't take a whole lot of pictures of the quilt before sending it off, but I did take one during the quilting process so you can see a little detail. I decided to use the negative space to emphasize the zigzag pattern by incorporating areas of matchstick quilting. I love the look of it, but it took FOR-EV-ER.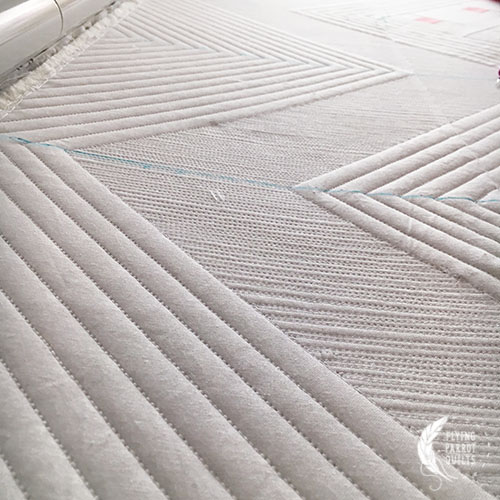 I had a near-disaster while burying threads on the quilting, when I accidentally clipped a hole into the quilt. Fortunately, it was on one of the red squares so I was able to remove that patch and hand-stitch in a new one, then re-quilt it on my domestic machine.
If you are headed to QuiltCon, this quilt will be in MQU's booth, #105!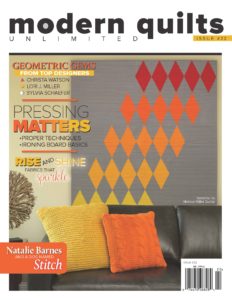 Quilt Stats:
Fabrics: Solids, mostly Kona Cottons
Batting: Warm & White
Quilting thread: Glide white + Glide prewound bobbins
357,436 (!) stitches