The Epic Halloween Quilt is a sampler quilt that uses blocks I've designed as well as patterns from several other designers. I ran this quilt-along in 2016, but you can still make your own version of this quilt!
The links to each week's posts for the Epic Halloween QAL are collected below. Enjoy, and please share your progress and most especially your finished quilts using the hashtag #epichalloweenqal on social media!
Finished size: 48″ x 60″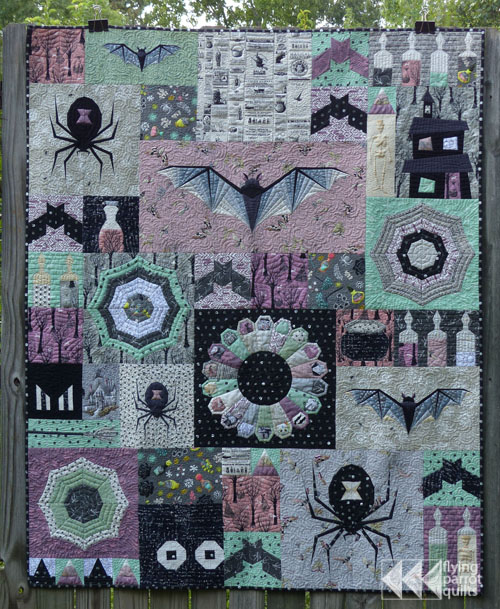 Week 1: Gathering your fabrics and patterns
Week 2: Candy Corn and Witches' Hats
Week 3: Spooky Spider
Week 4: Cauldron & another Potion (from Fandom In Stitches)
Week 5: Ring of Coffins pattern (from Art School Dropout)
Week 6: Variable Potions
Week 7: Midnight Bite pattern (from Lilly Ella Stitchery)
Week 8: Eyeballs (from Happy Sew Lucky)
Week 9: Barn Bats
Week 10: Curved Spiderwebs
Week 11: Broomstick and Haunted House
Week 12: Filler Blocks & Quilt Assembly
Additional block suggestions and photos of finished quilts!
SaveSaveSaveSave