I would love to come speak to your guild! Please contact me for more information on fees and availability.
Lectures
What is Modern Quilting?
Modern quilting is extremely popular right now, but what exactly is it? We'll discuss some of the common characteristics found in modern quilts, such as negative space, solids, straight line quilting, improvisation, and more.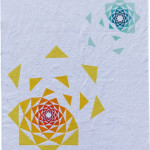 Designing with Negative Space
Many quilters enjoy the modern aesthetic but are overwhelmed when considering designing their own quilt. This lecture gives you concrete step-by-step ideas on how to begin with a traditional quilt block and then alter it to incorporate negative space (also known as background area). Plus, I'll give you suggestions on fabric and quilting choices for your design!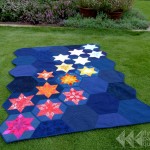 Quilts from Science
Inspiration is everywhere—in my case, I often find it in science. I'll show you my quilts and talk about the science behind them. You'll leave with a few fun new factoids about the way the world works and inspiration to look to your own career for quilt ideas.
Workshops
Free-motion quilting
This half day or full day workshop helps students get on their feet with free motion quilting on their domestic machines. We will work through a variety of free motion designs and variations, first on paper and then on fabric. Students will also get plenty of tips on avoiding common pitfalls.
I am also happy to teach any of my patterns.