The organic curved shapes in this quilt suggest single-celled creatures floating in a primordial ocean. Accordingly, the quilting I designed for the orange and green shapes is based on the structures of animal and plant cells, respectively.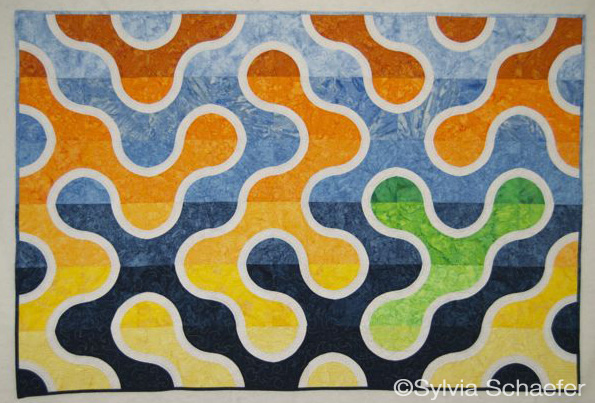 Here's an example of the quilting in the orange animal cells.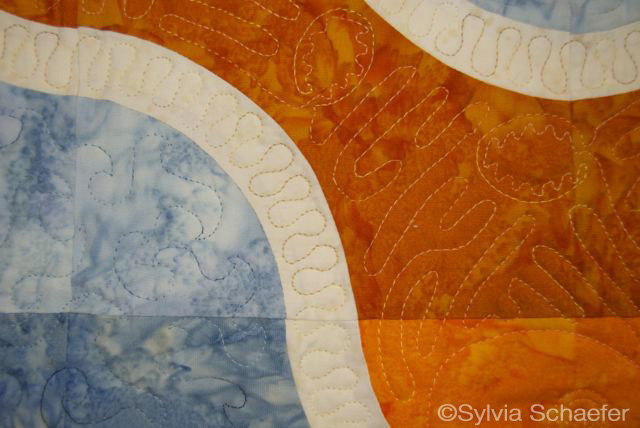 Can you spot a lipid bilayer, mitochondria, the endoplasmic reticulum, and in the bottom right-hand corner, just a bit of the nucleus and nucleolus?
And here is a plant cell.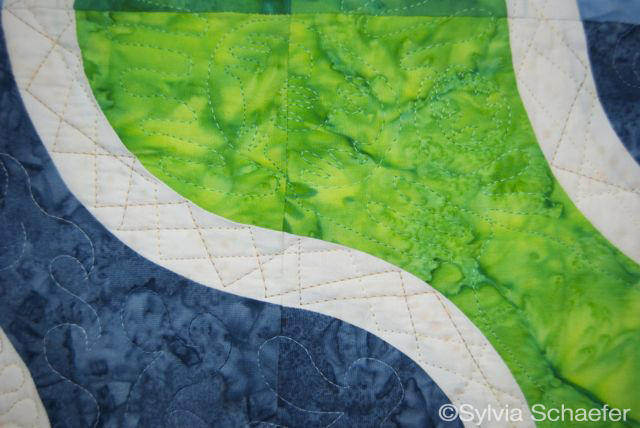 Look for the cell wall, mitochondria,  endoplasmic reticulum, and, of course, chlorophyll.
The blue areas are quilted with a wave pattern.
The quilt won Third Place in the Innovative Adaptation of Traditional Patterning category in the 2013 Cotton Patch Quilt Show, Watkinsville, GA, and was a contender for Best Machine Quilting.
(2012)
Shows:
2013, A Journey In Quilts, Cotton Patch Quilters Guild, Watkinsville, GA

Third Place, Innovative Adaptation of Traditional Patterning category
2013, Georgia Celebrates Quilts, East Cobb Quilt Guild, Marietta, GA
2013, AQS QuiltWeek Modern Quilt Challenge, American Quilter's Society, Des Moines, IA