As many of you are finishing up your Epic Halloween quilts, I wanted to share my finished quilt and hopefully give you a few ideas on how you might quilt yours!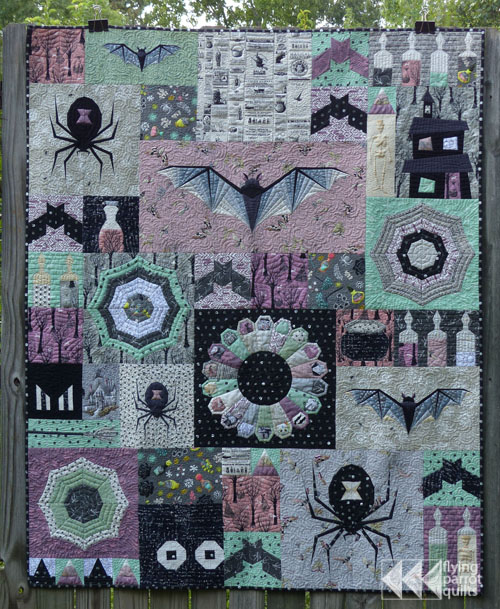 I decided to go elaborate on the quilting, and so I also splurged on 100% wool batting so my stitches would really pop. This is the first time I've used pure wool batting in a quilt, and oh my is it fabulous! The other special supply I broke into for this quilt was the cone of glow-in-the-dark thread that a friend gifted me a while back. It was hard to get a good picture of the glow, but it does look pretty neat in person.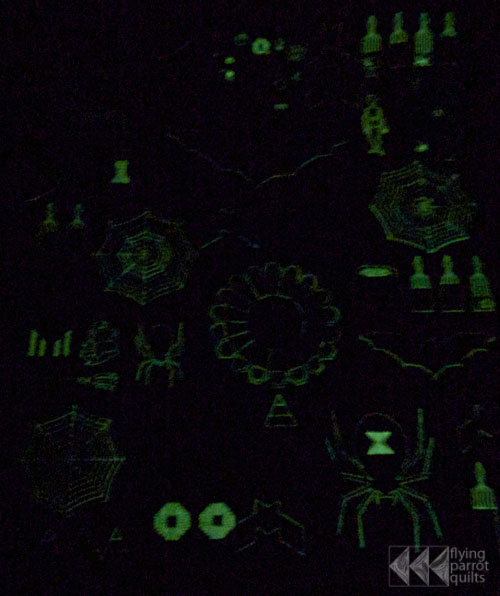 The thread requires charging up with a pretty high-powered lamp to really glow, so I'm not sure how much of it I'll see on a regular basis, but it's fun to know it's there. I tried to outline most of the piecing and added some highlights here and there. This is one of the pairs of eyes: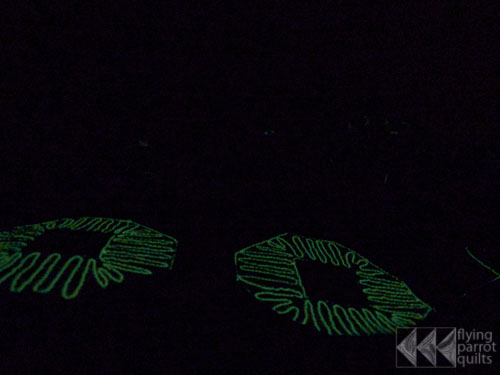 Here are some of the quilting designs I used on the different blocks.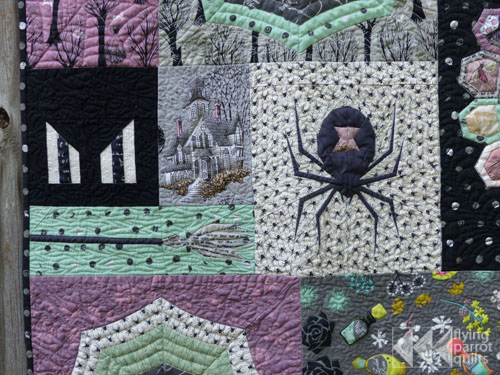 Curved spiderwebs were echoed every 1/2 inch, and the outside is full of little bitty spiders.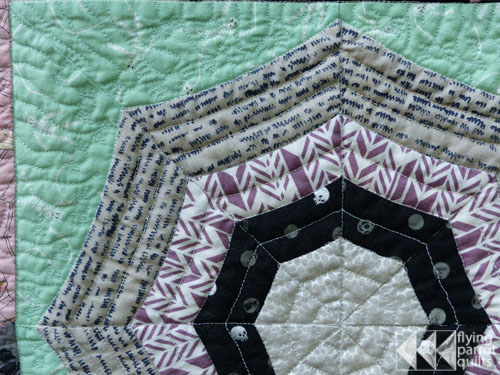 In many cases, I used the printed fabric as guides, such as for this skeleton in a bottle, and the bubbles in the green potion. The background of all the potion bottles was quilted with a brick wall-type design.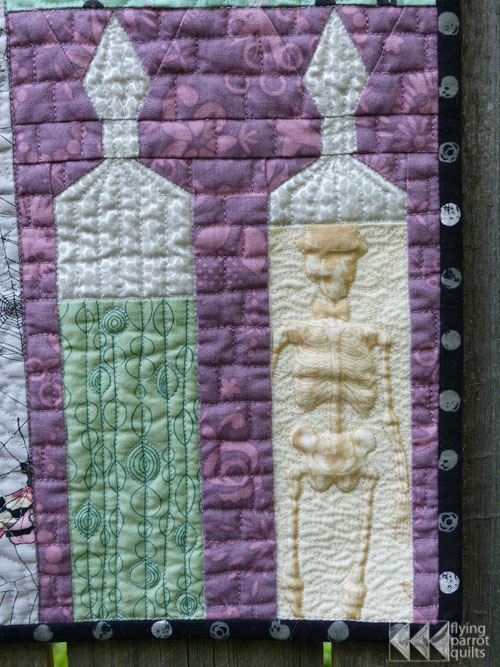 For the spiders, I added some curved lines to the body and then a jagged swirl reminiscent of spiderwebs.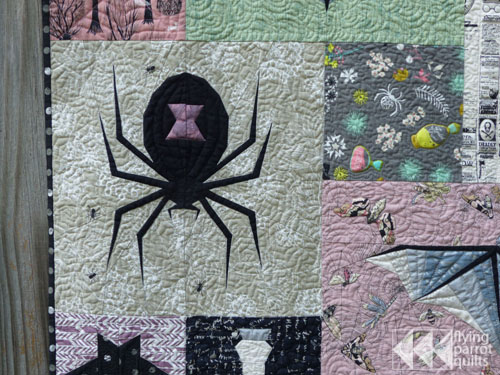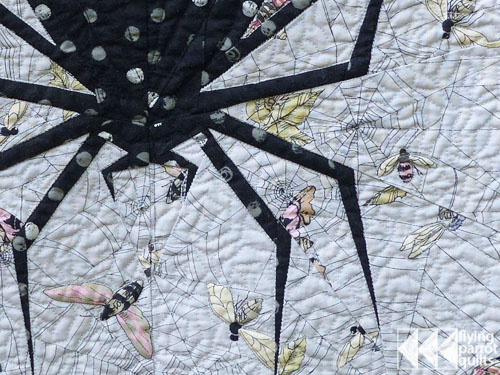 Bats got a clamshell/mussel-type background design (because that reminds me of the sonar they use to find their prey. Come on, you knew I was going to bring science into this at some point. 🙂 ).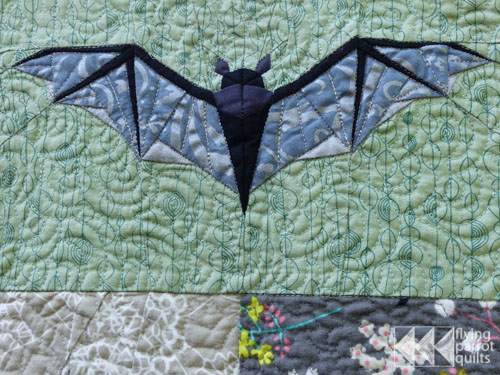 I added some extra lines to their wings, too. I used a silvery metallic thread for that part since I used metallic fabrics, but in retrospect probably should have used the glow-in-the-dark for these details as well.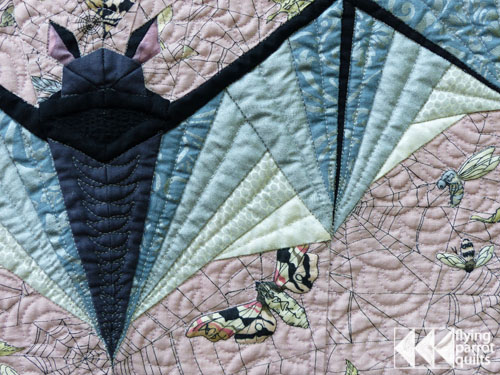 Some of the open blocks got a spiderweb, and for others I outlined some of the elements and then did a tight stipple in the rest of the block. I actually thought about quilting one giant spiderweb over the whole quilt, and I still think that would look really cool if you're looking for something less intense for your quilt!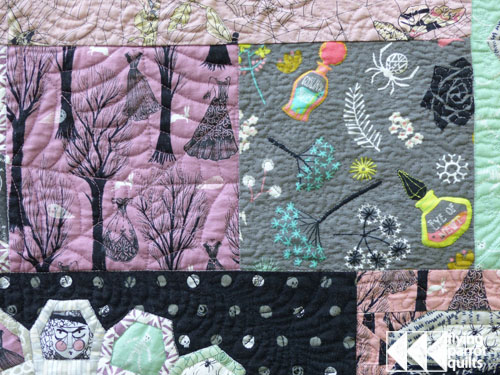 For the Barn Bats, I used some quilting inspired by Angela Walters' "Shape to Shape" concept and swirls in the background. (And again on the newspaper, I used the fabric as a guide.)
The coffins in the ring of coffins were outlined, and then I used feathers for the background of that block.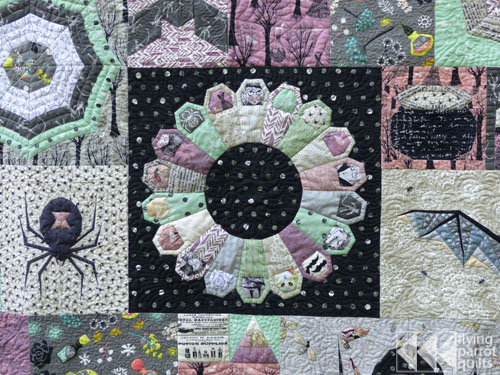 You can see it better on the back:
Eyeballs, after being filled with glow-in-the-dark thread, got a leaf fill in the background (since clearly monsters hide in bushes and forests), though it unfortunately doesn't really show up very well on the black fabrics.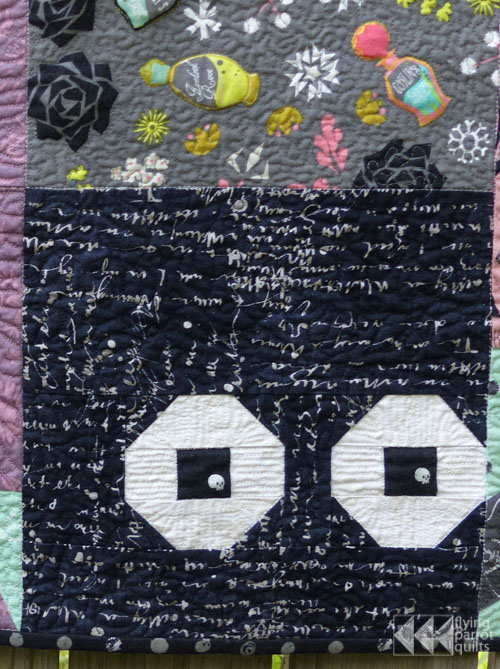 And the haunted house is obviously in an overgrown forest, so I used a branching fill for the background there.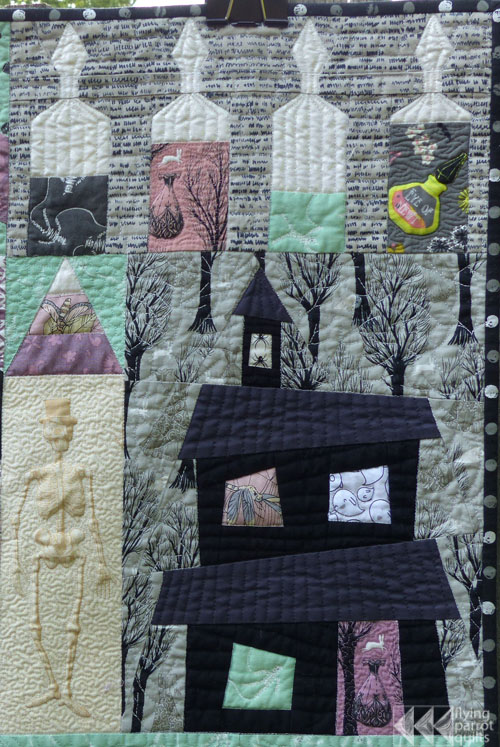 Again, you can see how I used the designs in the fabric to guide my quilting here.
For the backing, I tried to use up a bunch of my leftovers. It's pretty busy, so you don't see too much of the quilting, but there is some texture that pops out.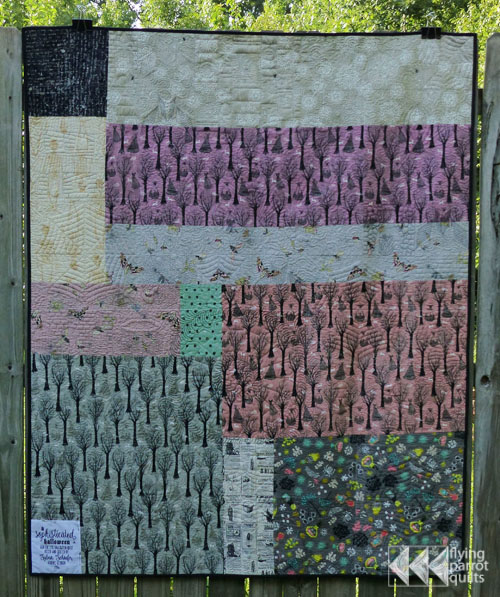 Finally, here's the binding, which I very carefully fussy-cut to take advantage of the tiny 1/4″ dots and skulls on the Cotton+Steel print. This is one of my favorite parts of the quilt!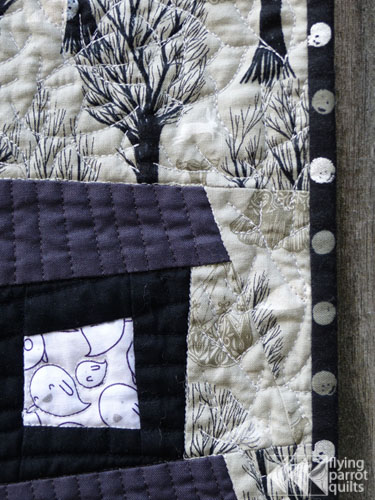 Final stats:
Finished size: 48″x60″
Fabrics: Primarily Cotton+Steel and Alexander Henry
Thread: Aurifil 50wt and Superior NiteLite
Batting: Quilters Dream 100% wool
Started: April 2016
Finished: August 2016
As always, quilted on my domestic machine.
SaveSave