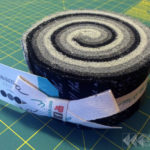 When I went to the AQS Chattanooga show back in the fall of 2015, I really fell in love with Zen Chic's Modern Background Ink line. All that was left in the Moda both was a jelly roll. I don't use precuts very often (mostly because I'm a pre-washer), but I had to have this one. So, what to make with a jelly roll? The answer, for me, was a whole lot of half square triangles (HSTs).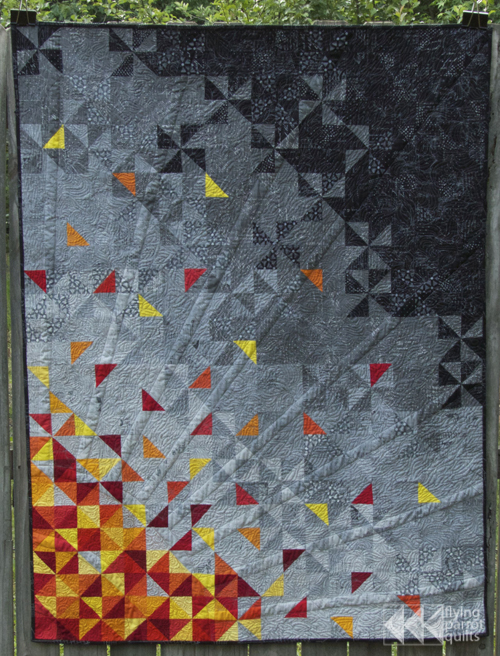 This quilt is inspired by the Sun's corona, the superheated zone of gas (actually, plasma) surrounding the star itself. The corona is mostly visible during solar eclipses. Speaking of which, what are my American readers doing on August 21 of this year? If you've not made your plans to try and get to the path of totality that will cut across the entire United States from coast to coast, I strongly encourage you to do so! I'm told there is no substitute for being in the path of totality. We'll be near Anderson, South Carolina, for 2 minutes 33 seconds of totality!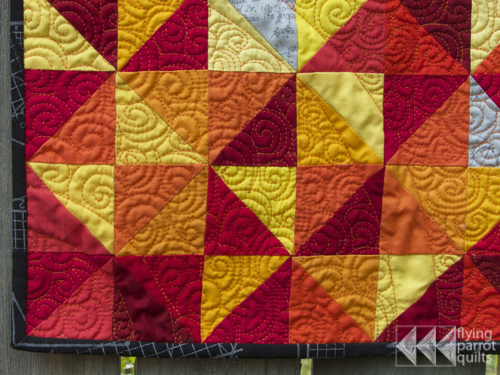 Anyway, back to the quilt: I used solids from my stash. To piece the HSTs from strips, I used Thangles so that the HSTs finished at 2″. The HSTs made up of two solids were pieced using the old-fashioned two-at-a-time method.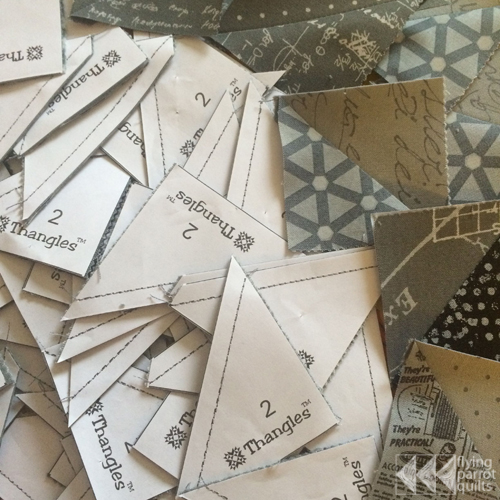 While going through my photos of making the quilt, I found this one of my sweet Pizzicato (whom we lost at the end of last year) playing with trimmings. It totally sums up how she used to help me quilt!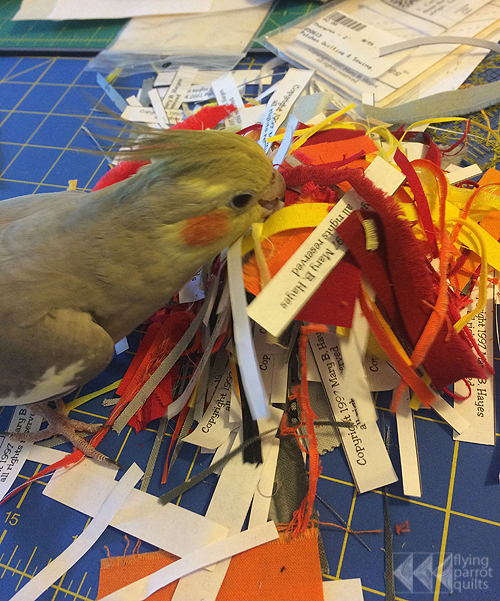 Then there was a whole lot of design wall (okay, floor) rearranging to get the placement just right, and then a whole lot of strip sewing and matching up of points.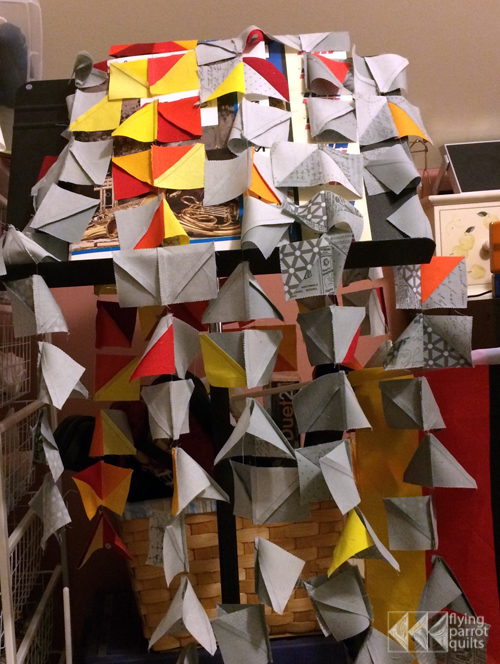 After that, I had trouble figuring out how to quilt it, and the top sat around for a while. When I pulled it back out a few weeks ago, my husband actually had an idea that broke the quilter's block: rays. I marked them with a blue wash-out marker on the quilt top before loading it on the longarm and using rulers along the marked lines.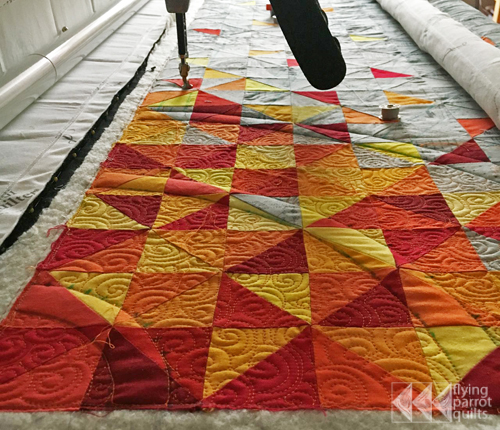 The in-between areas are quilted with a combination of fiery sorts of fills: swirls in between the curved lines, and then flames, petals, and McTavishing in alternating rays.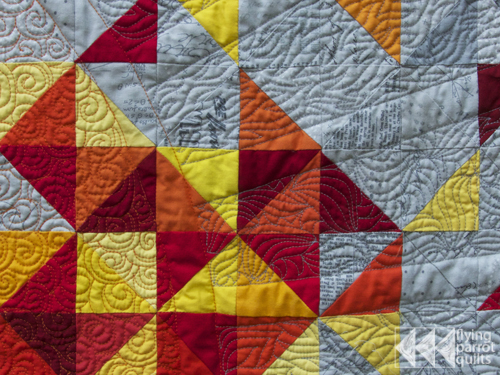 Some of these photos were taken at the Sapelo Island, Georgia ferry dock while waiting for people to come off the barrier island on the ferry and hand off some scientific samples to me. I'm pretty sure people thought I was weird for bringing a giant bag full of quilts to photograph, but haven't we all gotten some weird looks with our quilts?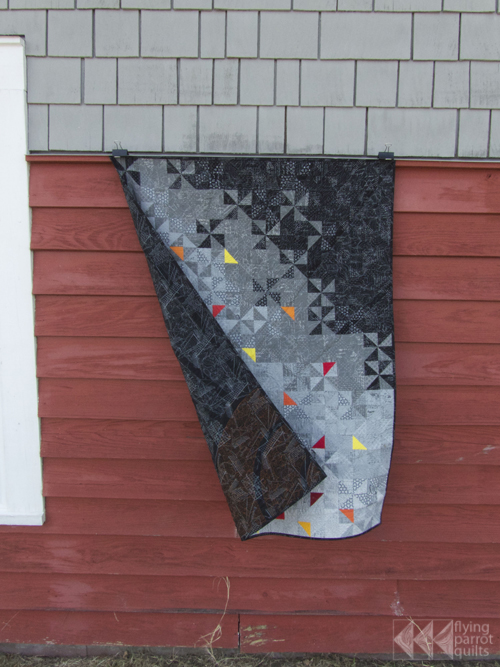 The quilt is backed and bound with yardage of the same Modern Backgrounds line. I love how well you can see the overall quilting design on the back.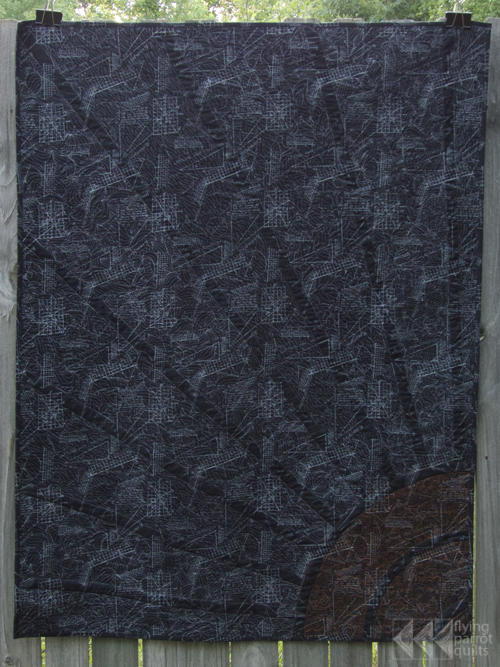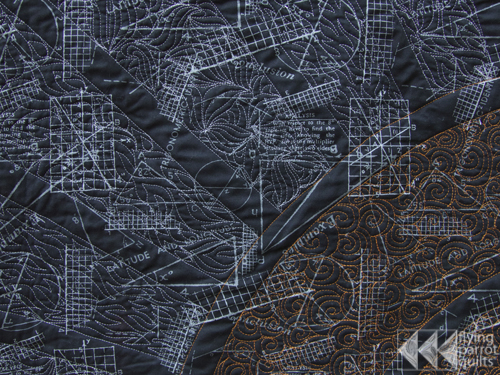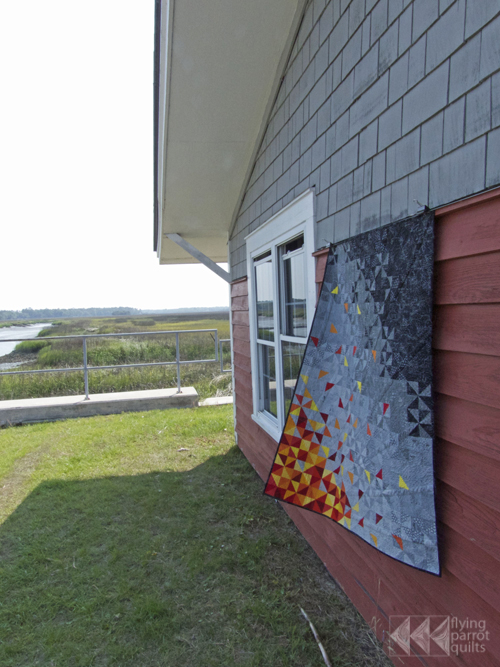 Quilt Stats:
Size: 40″ x 52″
Fabric: Zen Chic Modern Backgrounds Ink & assorted solids (mostly Kona, leftover from a fat quarter bundle purchased for the Disintegrating Artichoke quilt)
Batting: Hobbs 80/20 cotton/poly blend
Thread: Aurifil 50-weight, 2606 & 2150
Quilting stitches: 160,293
Started October 2015; Finished April 2017
SaveSave