I've made another science quilt (shocking, I know!), and this one is the Modern Quilt Guild's September Quilt of the Month, meaning members can download the pattern from the community site! I'm so excited to share the quilt and just a little bit about the science with you.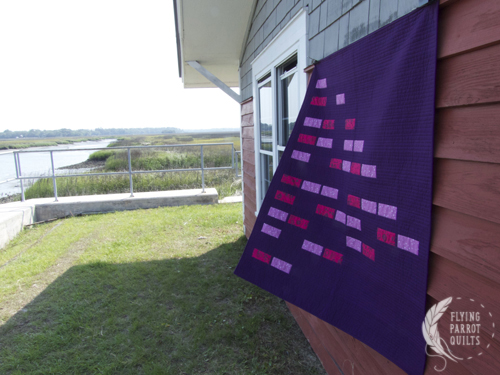 This quilt is called Molecular Test because it is based on a test called "gel electrophoresis" (pronounced "e-lec-tro-FOR-ee-sys"). Scientists use this method to separate molecules (typically, proteins or DNA fragments) by size. Basically, the samples are placed in a gel medium and an electric current is applied, which causes the molecules to move. Smaller molecules are able to move through the gel faster than large molecules, so they separate into bands by size. To be able to see the bands, researchers will often apply a fluorescent (glowing under backlight) dye. Here's a picture of what that looks like: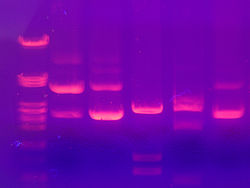 Brighter bands mean there are more molecules there. Typically, the leftmost column is a prepared sample (known as a "standard") that contains molecules of known sizes. In my field (marine science), scientists will use gel electrophoresis to look at bacterial genes, to try and figure out which types of bacteria live where.
For the quilt, I used Kona Hibiscus for the background and a couple of feature prints for the bands. This quilt is really straightforward to make; it just requires a little care in sewing the long strips together so they don't distort.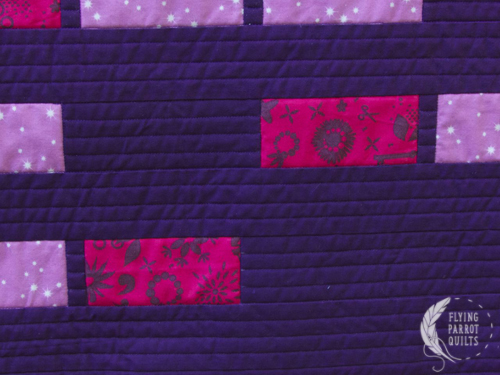 This is actually the very first real quilt I quilted on my longarm—electromagnetic channel locks for the win! The lines are 1/2″ apart, which I find to be a really good distance for the look I like. I left the print rectangles unquilted so they would pop a bit more.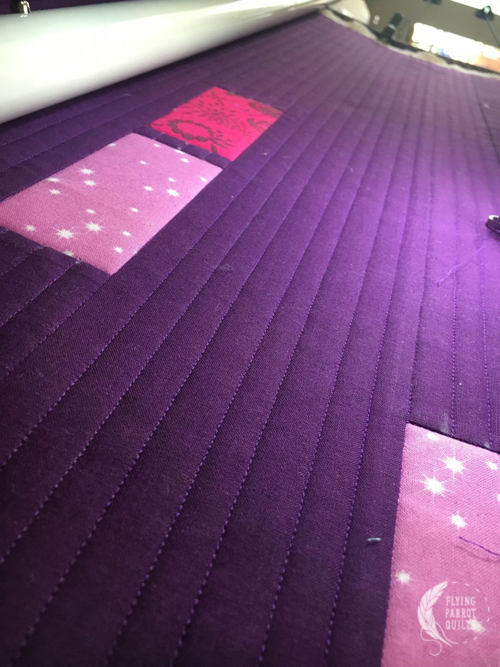 The backing is a purple dot print that I found at a fiber flea market event for $30 for the bolt, so it's going to be making an appearance in quite a few more quilts!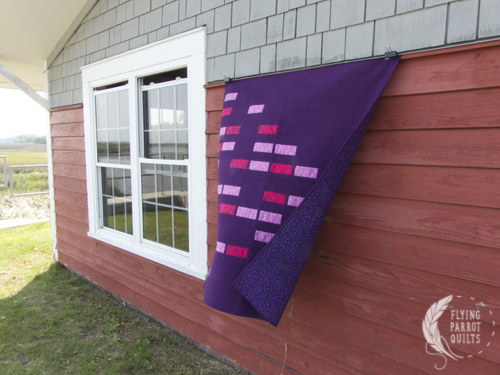 Appropriately for a science quilt, these photos were taken at the Sapelo Island boat dock while I was waiting for water samples to be brought over on the ferry. Sapelo is a beautiful, mostly undeveloped barrier island off the Georgia coast, accessible only by ferry, and is home to the University of Georgia Marine Institute and a National Estuarine Research Reserve.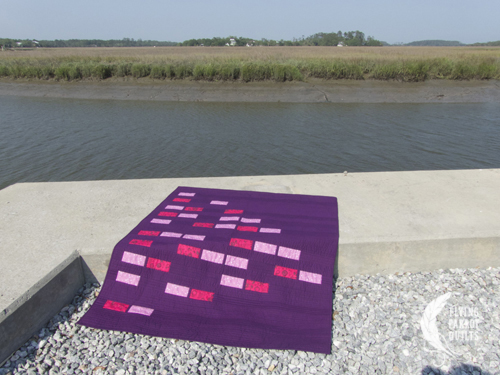 Quilt Stats:
43″ x 52″
Background fabric: Kona Hibiscus
Quilting thread: Aurifil #2582, 50wt
Quilting stitches: 58,710
SaveSave