Welcome to the Epic Halloween Quilt quilt-along! I'm so touched by all the love you guys have been heaping on this quilt on Instagram, and I'm excited to see everyone else's take on it!
There are a lot of blocks to cover, so I'm planning for a 12-week quilt-along. That'll give you a finished top by the end of the summer, with two months left to finish any blocks you might have missed, and of course for quilting and binding in time for the big day, Halloween! Here's the schedule:
Week 1: Gathering your fabrics and patterns
Week 2: Candy Corn and Witches' Hats
Week 3: Spooky Spider
Week 4: Cauldron & another Potion (from Fandom In Stitches)
Week 5: Ring of Coffins pattern (from Art School Dropout)
Week 6: Variable Potions
Week 7: Midnight Bite pattern (from Lilly Ella Stitchery)
Week 8: Eyeballs (from Happy Sew Lucky)
Week 9: Barn Bats
Week 10: Curved Spiderwebs
Week 11: Broomstick and Haunted House
Week 12: Filler Blocks & Quilt Assembly
This is a fairly ambitious line-up, and depending on how limited your sewing time is, don't worry if you fall behind; these posts aren't going anywhere! Just make sure you grab your patterns. I've tried to alternate between harder and easier weeks to give you a chance to catch up.
This week is for preparing yourself for the epic-ness to come! You'll find a list of the fabrics I used, in case you're wanting to purchase some specifically for this quilt. Most of the Halloween fabrics should still be around and reasonably easy to find.
Patterns
The quilt uses patterns from several different sources, along with the ones you'll find here over the course of the quilt-along. The base grid for this quilt is a 3″ x 3″ grid (with one small exception), so we will be resizing some of these patterns a little.
You'll need to purchase:
Midnight Bite by Nicole of Lilly Ella Stitchery
Nicole has very kindly offered 20% off on her pattern for those of you participating in the quilt-along. Use code FPQAL on Payhip, good through the end of June!
Ring of Coffins by Jessee of Art School Dropout
Spooky Spider—on sale for 20% off for the duration of the quilt-along on Craftsy or PatternSpot
Free:
Haunted House, Broomstick, Variable potions, and Candy Corn and Witch Hat
Free from other designers:
Cauldron (from www.fandominstitches.net)
Potion (from www.fandominstitches.net)
Eyeballs by Happy Sew Lucky
Other materials: A sheet of template plastic is useful for the curved spiderweb blocks. I used the Phillips Simple Curves Ruler for those blocks; if you plan to make a lot of these blocks in the future you may want to consider investing in one.
Fabrics
This quilt is fairly scrappy and great for using up various Halloween fabrics you've got floating around. If you'd like to purchase fabrics specifically for it, I recommend purchasing half yards of large-scale prints and quarter yards or fat quarters of the smaller-scale prints. For the Halloween-themed fabrics, this is approximately what I used for the quilt top.
Cotton and Steel, Spellbound:
Doily Web in Gray – ½ yard
Skull Dot in Metallic Black – ½ yard
Haunted Forest in Grey, Lilac, and Coral; Skull Dot in Metallic Mint; Mummy Dance in Mint and Grey; Elixir in Grey – ¼ yard/fat quarter each
Alexander Henry, Ghastlies:
½ yard each of A Ghastlie Web in gray and pink
Scraps of The Ghastlies in Smoke
Jen Allyson for Riley Blake, Lost and Found Halloween:
Newsprint in Cream (fat quarter)
Halloween Spiders in Cream (fat quarter)
Lizzy House, Guising (now reissued as part of her Whisper Palette Collection):
Ghosty Ghost in Light Grey (fat quarter)
Chillingsworth's Spooky Ride
Skeletons in Tan (fat quarter)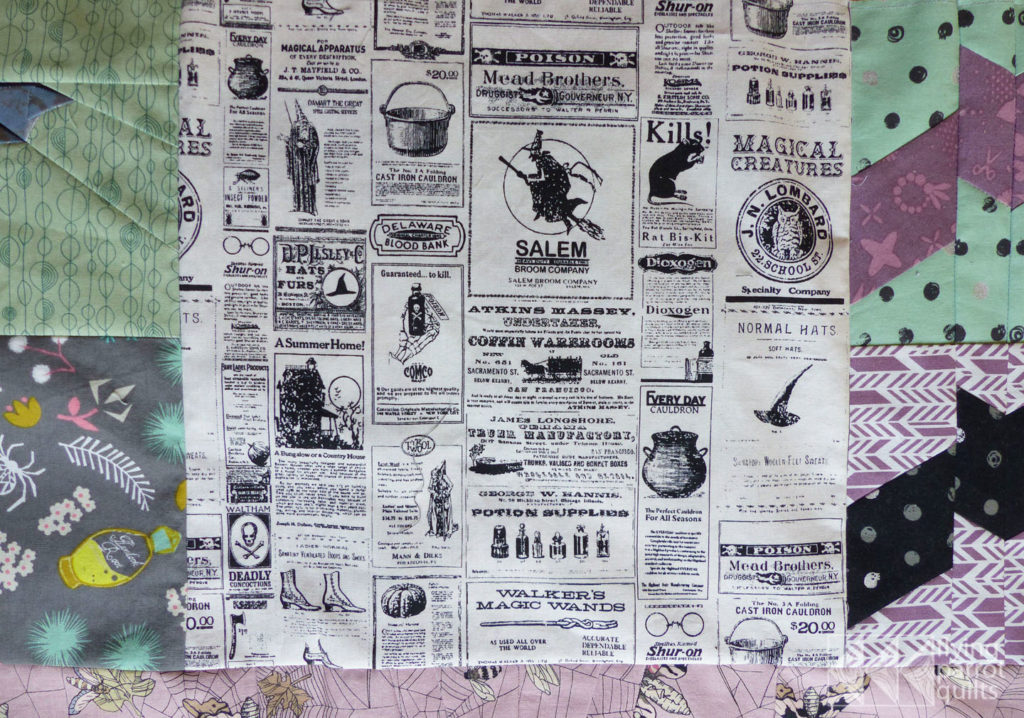 I supplemented these with coordinating non-Halloween fabrics from my stash. The dusty rose and lilac colors can be hard to match, but some of Alison Glass' older Sun Prints are a dusty lilac and match well; I used two quarter yards of these. Some of the other non-Halloween fabrics I used were:
Jennifer Sampou, Shimmer (used primarily for bat wings and potion bottles)
Janet Clare, The Wordsmith (fat quarters of Ink and Quill, 1395 13 and 1396 12, respectively)
Solids in black and dark grey
To break up the busy pieced blocks, I scattered plain blocks throughout. If you have any sections of your fabric that you can't bear to cut up or want to fussy cut, go ahead and set those aside. Otherwise, we'll deal with these at the end.
6 – 6½" x 6½" squares
1 – 12½" x 12½" square
1 – 6½" x 9½" rectangle
1 – 3½" x 9½" rectangle
1 – 4½" x 6½" rectangle
That's it for this week! If you have any questions, post them in the comments and I'll answer them for all to see. Next week, we'll start with some simple paper-pieced blocks to ease you into paper piecing if you haven't done any in a while.
Please post your progress shots for this quilt on social media with the hashtag #epichalloweenqal!